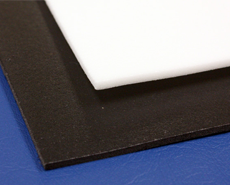 Volara
Foam Types: Volara
Standard Sizes: Lineal Ft., Roll
Heights: 1/8", 1/4", 3/8", and 1/2"
Features
Volara Type A foam is a general purpose cross-linked LDPE foam that has excellent chemical resistance. This foam is ideal for industrial applications like flooring underlay, construction gap filler, industrial gaskets and custom packaging. Type A is available for food contact and has long been the choice for bottle cap liners. Additionally, this product will thermoform and can be compression molded. Type A is an option for single and double coated PSA foam systems.
Details
Superior mechanical properties
Low water absorption and vapor transmission
Excellent thermal insulation
Excellent chemical resistance
Smooth, aesthetically pleasing surface
Fine cell structure
Ideal for gasket applications
Nontoxic and contains no CFCs, HCFCs, or hydrocarbon blowing agents
FDA Food Contact Compliance
Volara Type A foam complies with the Food and Drug Administration regulations for use in contact with food.
Standards Include:
21 C.F.R. 177.1520 (c) 2.1
C.F.R. 178.3010
C.F.R. 177.1210
Skin Irritation & Toxicity Studies of Volara
Results of the studies:
Primary Skin Irritation: Nonirritant
Oral Toxicity: Nontoxic
Agarose Overlay: Nontoxic
| | | |
| --- | --- | --- |
| Thickness | Lineal Ft. | 50 Ft. Roll |
| Volara Foam 1/8" Thick x 60" Wide | $2.64 | $107.99 |
| Volara Foam 1/4" Thick x 60" Wide | $3.96 | $188.99 |
| Volara Foam 3/8" Thick x 60" Wide | $5.83 | $256.99 |
| Volara Foam 1/2" Thick x 60" Wide | $9.50 | $360.99 |
NOTE: Products may carry a size tolerance, depending on style. Please see our Tolerance Table.
NOTE: White Volara may differ in color from white to off-white.
NOTE: The 1/2" thickness is made from two 1/4" layers laminated together.
NOTE: Standard sheets of foam are cut slightly larger than the listed size to compensate for shrinkage during packaging, transit, and delivery. Sheets may contain rough edges.
---