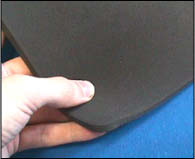 Neoprene Foam
Foam Types: Neoprene Regular, and Neoprene High Quality
Standard Sizes: Full, Half
Heights (2LB): 1/8", 1/4", 3/8", 1/2", 3/4", 1" and 2"

Features
Neoprene (aka Monarch) is a flexible and durable sponge rubber that provides good thermal & moisture insulation and form fitting which is able to resist ozone, sunlight, oxidation, many petroleum derivatives and chemicals. Neoprene foam can also resist breakdown by water, and can become temporarily stable because water & air can be come isolated in its unique molecular structure. Some of the many uses of neoprene include sports gloves, waders, wet suits, insulated can holders, knee & elbow pads, expansion joint filer in masonry & concrete, and filler support sealant in traffic bearing joints.

Neoprene is dark charcoal in color.