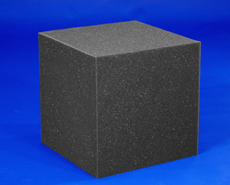 Foam Pit Cubes
Foam Types
Acoustic Foam

Standard Sizes
6"x6"x6" cubes and 8"x8"x8" cubes

Colors
All 13 Colors
Features
Ideal for adding both safety and fun to the mix, foam pit cubes give you a reliable solution for your gym or gymnastics center. This smart solution is perfect for use as a crash pad for lots of different applications and is well suited to areas such as trampoline parks, skateboard parks, and BMX courses. Offering a soft cushioning that is also sturdy enough to help reduce safety concerns, these foam pit cubes work well with providing cushioning support against low-level stunts or falls. Foam pit cubes can also be used for fun! They can easily be used in pits for kids to play around and have a cushiony landing zone. Choose from a range of colors to fit the décor of the location, as well as popular sizing options to get the right cushion for the job.
Details
Fire Retardant, Meets Cal TB 117
Open Cell Polyurethane Foam
Comes in multiple colors
6" cube pack of 96 will fill about 12 cubic feet of space
8" cube pack of 54 will fill about 16 cubic feet of space
Size

Price

Foam Pit Cubes
(96-Pack) 6"x6"x6"

$170.99


Foam Pit Cubes
(54-Pack) 8"x8"x8"

$225.99

NOTE: Products may carry a size tolerance, depending on style. Please see our Tolerance Table.
---