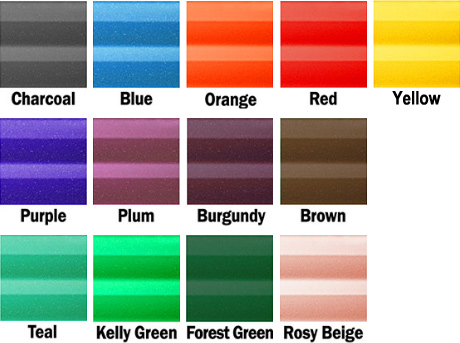 NOTE: Colors above may differ from actual foam colors due to differences in your monitor's (screen's) setup.
So Many Colors
Once you choose the product(s) for your needs, its time to pick a color. (No extra charge) If you ever have to replace the foam, make sure the foam is colorized, and not just surface painted, as some other companies are known to do. Unlike other companies, the color of our foam is designed to resist the elements of light, humidity, sweat, temperature, and cigarette smoke. Our foam will remain soft, and it will always remain to be in good sound deadening condition just as good as the day it was made for several years to come.
Same, from Side to Side
All of our sound deadening foam is cut and squared off with near 100% accuracy, leaving you with clean, square cut edges. Unlike other companies that have irregular, skewed, or not so near perfect edges, our foam can be aligned up perfectly with the next piece, and the next piece, and the next piece… you get the point.
Special, Long Lasting Foam
Our foam is a high quality acoustic foam that's made specially to withstand the elements, such as harsh lighting, repeated physical contact like poking fingers, and of course, sound waves. Unlike other brands, most known to crumble under these conditions; our sound deadening foam will never crumble, so the only time you will need to vacuum the foam, is when you see a little bit of dust here and there.
Note:
All colors, (especially lighter ones) will change over time depending on environmental factors. This is a trait with all polyurethane foam products.