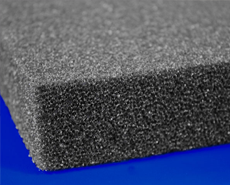 Speaker / Filter Foam
Foam Types
Filter Foam - 30 PPI

Standard Sizes
72"x48" and 36"x48"

Heights
1/4", 1/2", 3/4", 1", 1-1/2", and 2"
Features
Recommended For: speaker covers, or use in high dust holding capacity filters in central-heating and air conditioning systems
Details
Characteristics: A reticulated, open pore, flexible, ether type of polyurethane foam. Characterized by a skeletal structure of strands which provide a constant 97% of void space and a very high degree of permeability.
Color: Dark charcoal.
Applications
Filter Applications: Small engines, air compressors, hair dryers, face masks, vacuum cleaners, air conditioning, school & motel unit ventilators, oil-mist eliminators, automotive air cleaner, home furnace-OEM-replacement, industrial panels, electric equipment, projector equipment, and dust bag collectors.
Coalescing: Separation of water from gasoline, perchlorethylene, and jet fuel,
Noise Suppression: Microwave covers, aircraft, industrial vacuum cleaners, high intensity sound.
Miscellaneous: Powder puffs, floor scrubber pads, filter in hydraulic line, lint free wiper for clean rooms, prefilter for liquid filter, paint brush applicators, black board erasers, foundation for ceramic & metallized high tech filters, and blood oxygen
Note: Not tested for use in aquariums.
Thickness

Full Sheet 72" x 48"

Half Sheet 36" x 48"

30 PPI Speaker/Filter Foam
1/4" Thick

$14.61


$8.30


30 PPI Speaker/Filter Foam
1/2" Thick

$27.21


$14.61


30 PPI Speaker/Filter Foam
3/4" Thick

$39.82


$20.91


30 PPI Speaker/Filter Foam
1" Thick

$52.42


$27.21


30 PPI Speaker/Filter Foam
1-1/2" Thick

$77.64


$39.82


30 PPI Speaker/Filter Foam
2" Thick

$102.85


$52.42

NOTE: Products may carry a size tolerance, depending on style. Please see our Tolerance Table.
NOTE: Sold in full and half sheets only, but can be cut to custom sizes. Contact Us for details.
NOTE: Filter foam is not recommended for fish tanks.
NOTE: Standard sheets of foam are cut slightly larger than the listed size to compensate for shrinkage during packaging, transit, and delivery. Sheets may contain rough edges. Any yellowing/discoloration present is a byproduct of exposure to light during production and manufacturing and does not represent a flaw, damage, or defect in the material.
---