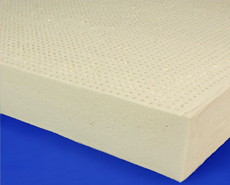 Latex Foam Mattresses
Foam Types
Dunlop Latex Foam

Standard Sizes
Twin, Twin Long, Full, Full Long, Queen, King, and CA King

Height
6"
Features
Hypoallergenic Dunlop latex offers an unparalleled combination of comfort and support, for a restful, pressure-free night's sleep! Aerated with a dotted pincore surface, these antimicrobial mattresses will help you stay cooler and comfortable. Latex foam will spring in instant support of the body, while yielding to high-pressure areas, helping you stay comfortable and supported, no matter the position.

Details
Aerated, well-ventilated interior dissipates heat
High resistance to sagging
Dunlop mattresses are made of 100% natural latex foam
Hypo-allergenic and antimicrobial
Dunlop process results in consistency throughout the mattress
Only food-grade ingredients are used during the manufacturing process
Forms to your body's contours for superb support and pressure
Mattress with equal perforations of 1/4" over the whole surface
1/4" FR Fiber Barrier, Rayon, Silica, Amorphous
Made in Europe
Poly-Cotton Knit Cover w/zipper included with all sizes

Light beige, 25/75 organic cotton/polyester blend†
Machine wash, hang dry

10-Year Warranty*
30-Day 100% Guarantee*
Options
Gray and White Striped Cover w/zipper

50/50 cotton/polyester blend
Dry clean only
$10.00 for any standard-size mattress

Beige Terrycloth Cover w/zipper

80/20 cotton/polyester blend
Machine wash, hang dry
$20.00 for any standard-size mattress
NOTE: The following cover options are unavailable at this time:
Terrycloth: Twin, Twin Long, Full, Queen, King, and 8" CA King
†NOTE: The product's label will indicate 100 percent polyester. This is because of our provider's manufacturing standards; products made from a certain percentage of one material will be listed as being made fully from said material. Despite this tag, our cover is 25 percent organic cotton.
Dunlop Latex Foam Mattress
Specific Details
4.6LB Density
6" Thickness
Perforations of 1/4" across entire mattress
Latex foam made using the Dunlop process, which results in a more resilient, longer-lasting material
Listed prices below are for foam only
| | | |
| --- | --- | --- |
| Size | Foam Type / Firmness | Price |
| Twin 38" x 75" | Dunlop Latex (Medium - 29 ILD) | $297.99 |
| Twin Long 38" x 80" | Dunlop Latex (Medium - 29 ILD) | $317.99 |
| Full 54" x 75" | Dunlop Latex (Medium - 29 ILD) | $377.99 |
| Full Long 54" x 80" | Dunlop Latex (Medium - 29 ILD) | $437.99 |
| Queen 60" x 80" | Dunlop Latex (Medium - 29 ILD) | $439.99 |
| King 76" x 80" | Dunlop Latex (Medium - 29 ILD) | $560.99 |
| CA King 72" x 84" | Dunlop Latex (Medium - 29 ILD) | $580.99 |
NOTE: Products may carry a size tolerance, depending on style. Please see our Tolerance Table.
*NOTE: For details on the Latex Mattress/Topper Warranty and Guarantee, see the return policy on our Customer Service page.
**NOTE: The CA King latex mattress is a solid 72"x80" with an extra 4" glued to the end to make it 72"x84". There is no additional charge for the gluing.
NOTE: Due to the manufacturing process, minor imperfections are normal and do not affect overall performance of the latex foam. Latex's pin-core perforations may or may not fully extend through the product. This is a normal result of the manufacturing process, and neither variation is to be considered a flaw or defect. Any yellowing/discoloration present is a byproduct of exposure to light during production and manufacturing and does not represent a flaw, damage, or defect in the material.