Making Foam Sacks: Our Process
Foam sacks from the Foam Factory are the number one choice for comfortable yet affordable seating at home, school, or work. Foam sacks come in a wide range of shapes and sizes, from round single-seat chairs to rectangular multi-seat couches, and can also be formed in nonstandard shapes and sizes for custom configurations.
For customers interested in how our foam sacks are manufactured, here is a brief overview of the steps we take after receiving an order on our website:
First, we take a "bun," which is a chunk of foam that will be used to create the foam sack.
These traditionally measure 39" X 76" X 82". The bun can be made out of one of several types of foam - options include conventional foam, dryfast foam, charcoal foam, and memory foam. For foam sacks, we use a blend of our conventional foams.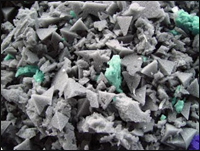 We then shred the bun so that the necessary amount of fill material is created.
We have onsite shredders to quickly produce enough shredded foam to fill the correct size and number of foam sacks ordered.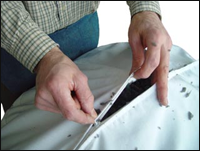 Next, the shredded foam is put into a protective liner.
The liners are 100% cotton twill, and come pre-sewn in sizes ranging from 3ft to 8ft (in one-foot increments) to accommodate the six different foam sack sizes that are available to our customers. These zippered liners allow easy access for filling, replacement, and maintenance, as well as provide an extra layer to protect the shredded foam fill and prevent it from leaking through the cover.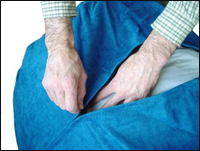 The filled liner is then inserted into a passion suede cover of the customer's choice.
Passion suede has the look and feel of authentic suede fabric at a much more affordable cost. Our hand-sewn covers are soft but durable, made from 100% shrink-resistant micro-polyester fibers, and are available in 12 different colors. The machine-washable fabric and zippered access also makes it easy to remove and clean the covers. Covers can be custom sewn for foam sacks in non-standard shapes and sizes.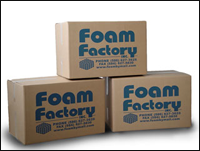 The last step we take is to compress the final product and box the foam sack for shipping.
Because we offer sacks up to 8ft long, compressing them into a more manageable size for shipping is a necessary step. Due to this process, the foam sacks need time to return back to their original shape and size once received by the customer, which typically takes between a few hours to a few days. You can be sure that there is no need to worry about the final outcome after shipping, because we use high-quality and resilient foam filling. There will not be any long-term effects from the compression process on your new foam sack.

Foam Factory is dedicated to providing you with comfortable and stylish foam seating. Whether you want a traditional single-seater foam sack, a custom shape or size, or just the materials to make a DIY foam sack, place an order with us today to have comfy and casual foam sack seating options wherever you need them!