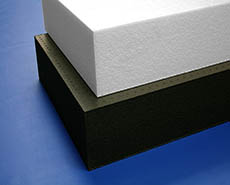 Expanded Polyethylene Foam
Foam Types
Expanded Polyethylene Foam

Standard Sizes
24" x 24", 24" x 48", and 72" x 48"

Thicknesses
6"
Features
Expanded Polyethylene (EPE) is a rigid, but lightweight material. It is a closed-cell foam that comes in handy for applications that require great compression and impact resistance. EPE can be used for projects that call for lightweight, but durable packaging, thermal insulation, and more.
Since EPE is so resilient, it often takes less material to accomplish your goals. As a result, Expanded Polyethylene is also a budget-friendly option.
---
EXPANDED POLYETHYLENE - 4.6LB BLACK
Size

Price

Expanded Polyethylene Foam
24" x 24" x 6"

$107.99

Expanded Polyethylene Foam
24" x 48" x 6"

$199.99

Expanded Polyethylene Foam
72" x 48" x 6"

$567.99
NOTE: Products may carry a size tolerance, depending on style. Please see our Tolerance Table.
NOTE: Standard sheets of foam are cut slightly larger than the listed size to compensate for shrinkage during packaging, transit, and delivery. Sheets may contain rough edges.
---