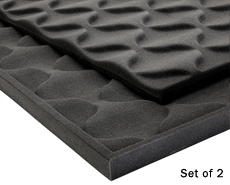 Acoustic Spade Foam
Foam Types
Acoustic Foam

Standard Sizes
2"x66"x43" and 2"x69"x45"

Colors
Charcoal
Features
With an up-and-down, side-to-side appearance that complements its sound deadening qualities, Acoustic Spade panels provide a groovy and fun aesthetic to any space where they're hung. Available in a two-piece interlocking set, one panel contains a "framed" edge, with the other having no edge. The coverage of these panels makes them a smart method for effectively treating large areas. Acoustic Spade panels give you the choice of mounting them in a uniform way, or getting an alternating look by turning every other panel 180 degrees.
Spade Foam

Charcoal

Acoustic Spade Foam Set of 2
2" x 69" x 45"

$126.99

NOTE: Products may carry a size tolerance, depending on style. Please see our Tolerance Table.
Set of 2: The 2 Panel Set contains one "framed" 69"x45" sheet, and one 66"x43" edgeless sheet.
---
ALL acoustical products (charcoal & colors) meet ASTM E84 Class A and California 117 flame retardant specifications. Generally, this means if you were to briefly expose our foam to a flame, the foam will self-extinguish.
We do not encourage anyone to try flame tests themselves. We don't want anyone getting hurt. Also, please check building codes before installing our acoustic foam, because different building codes apply to different locations.
---