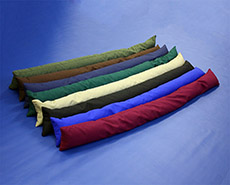 Draft Stopper
Foam Types
Shredded Polystyrene Foam

Sizes
36-1/2"x3-1/2" and 55-1/2"x4-1/2"
Features
Whether you have drafty doors or windows, or are intentionally sealing off a room for the season, these polystyrene pellet-stuffed products offer an easy, affordable solution! Available in two sizes, our Draft Stoppers help prevent outside air from getting into your heated or air-conditioned home, just by blocking the entrance. Filled with bean bag-style EPS foam, these forms can be manipulated and fit into place, and the only installation is setting them where you want them. Not only will your home be more comfortable, it can be more energy efficient as well!
Available in 100 percent cotton twill colors, excluding white. Non-removable. Spot clean only.
Size

Price

Draft Stopper
36-1/2" Long x 3-1/2" Tall

$4.99


Draft Stopper
55-1/2" Long x 4-1/2" Tall

$9.99

NOTE: Products may carry a size tolerance, depending on style. Please see our Tolerance Table.
NOTE: Colors above may differ from actual fabric colors due to differences in your monitor's (screen's) setup.
---